Fred Howard

»I immigrated to America in October 39. Germany permitted people like myself to leave, provided you didn't have very much. We arrived in New York with three dollars. My mother had three dollars and I had three dollars.
America was a fantasy at that point, which turned out to be a reality.«

Biography
Born in Silesia in 1922, Manfred Ehrlich moves to Berlin with his parents in 1933. Four years later he emigrates to the United States with his mother. His father and other relatives, who could not obtain visas to the U.S., spend the wartime in Shanghai. In 1943, Manfred Ehrlich, who now calls himself Fred Howard, joins the army and is transferred to Camp Ritchie where he is trained as an interrogator.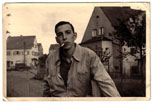 1944 he returns to Europe and is working as an interrogator of German prisoners of war in a team with Ritchie Boy Guy Stern. Together they convicted the war criminal Dr. Karl Schuebbe who had killed thousands of people via lethal injections.

After the war, Fred returns to America and starts a successful career as designer and business man. Today he lives in New York.